Concrete Batch Plants for Sale: Ready Mix, Precast & Central Mix
FESCO Direct is a full-service dealer for all sizes and types of concrete batch plants, both new and used, from some of the top names in the industry. We offer both accumulative weighing and decumulative weighing plants for ready mix and precast operations. We also supply turnkey plant installation and supervision of plant installation, as well as maintenance, batching plant parts, and troubleshooting services. FESCO Direct works with financial firms to provide working capital and assist business owners financially in other ways. Learn more about how you can begin leasing equipment today.
JEL Concrete Plants standard batch plant models
We source batch plants built to match your production needs.

Custom-designed equipment and systems
Stock solutions aren't for everyone, so FESCO Direct specializes in custom solutions. You provide us with the material type, flow characteristics and general properties (if necessary) and our team of engineers and vendors will design and manufacture the equipment or systems you need to unload, move, store, mix, load and handle whatever material you are working with.
If you are concerned about protecting the design, idea, and technology of the plant we put together for you, we will not share the designs with others or manufacture the equipment for others without your express permission.
New equipment manufacturers we work with:
Used Concrete Plants Available Through FESCO Direct
FESCO Direct hosts the used concrete equipment marketplace, a used concrete plant brokering service offering sellers free concrete plant listings. Prospective buyers can search over 100 used concrete plants available for sale.
Containerized Dry & Wet Concrete Batch Plants
FESCO Direct is a trusted dealer of containerized concrete batch plant equipment. We work with you to find the right equipment for your needs.
Three types of concrete plants available through FESCO Direct:
Ready Mix Plants: These concrete plants have no mixer. Materials are weighed and loaded into a mixer truck for mixing and delivery.
Central Mix Plants: These plants have a mixer. They're mostly used for paving projects because mixed concrete can be quickly loaded into a dump truck for transport to a slip-form paver or concrete finishers.
Precast Plants: These plants have a mixer and can range from small plants producing a small amount each hour to very large, high-production plants. The concrete produced is typically used at the plant location.
What is the difference between Accumulative Weighing and Decumulative Weighing Concrete Plants?
Accumulative Weighing Concrete Plants. With these plants, aggregate is stored in an overhead bin, then dropped into a hopper on load cells (scale) until the desired amount of materials is reached. The material is then discharged onto a transfer conveyor.
Benefits – Accumulative plants usually have large bins (120+ tons) allowing for lots of material storage. Because these plants are frequently enclosed, they offer better control over aggregate moisture and temperature and can operate in all weather conditions.
Decumulative Weighing (Reverse Weighing) Concrete Plants. These concrete plants do not have overhead aggregate storage. The material is placed in a hopper that sits on load cells (scale). The scale opens to discharge material onto the transfer conveyor until the desired amount of material has been discharged.
Benefits – Decumulative plants are usually more affordable because they don't have overhead bins and a feed system. Depending on configuration, decumulative plants can be very high production (over 150 cu. yards per hr.) or very low production (40-60 cu. yards per hr.)
Concrete Batch Plant Components Available Through FESCO
Contact FESCO Direct to talk about the concrete plant & equipment you need to get it done.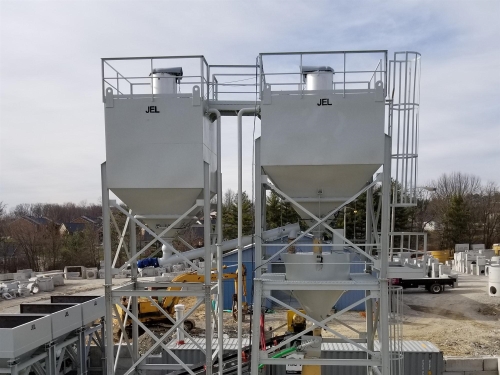 We partner with JEL Concrete Plants in the manufacture of custom concrete plants
JEL Concrete Plants is our partner concrete batching plant manufacturer - from stationary precast plants to fully mobile ready mix batching plants. Contact JEL Manufacturing and we'll help you source the equipment needed to build your plant exactly to your desired specifications.