Conveyors, Stackers, Belt Feeders for Concrete Batching Plants
Sales & Sourcing
Whether you're putting together a concrete plant or looking to expand an existing operation, FESCO Direct can make the process a lot easier. Instead of contacting multiple manufacturers for specs and quotes, let our engineers make a recommendation based on your specific needs. We supply conveyors for all batching plant and mixer demands including stationary, portable and wet belt concrete conveyors.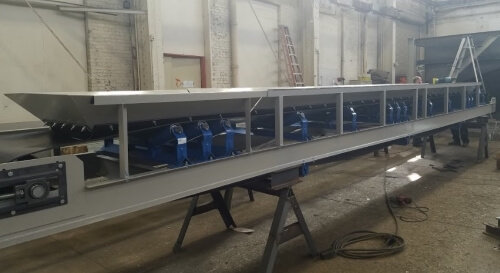 FESCO Direct sources conveyors, stackers, feeders and parts from some of the top manufacturers in the industry. We primarily work with small to large-sized concrete producers, but can also source material handling equipment for other industries as well.
Feed Conveyors
Channel or truss frames available
10′ to 120'+ in length-- tell us the height you need to fill at and we will calculate the length needed
18″, 24″, 30", 36″, or 48″ width
Transfer Conveyors
Channel frame
10′ to 70′ in length--special lengths available if necessary.
18″, 24″, 30", 36", or 48″ width
Radial Stackers
Truss frame
50′ to 120′ length
18", 24″, 30″ or 36″ width
motorized L-R travel
Belt Feeders
Channel frame
4′ – 12′ long
12″, 18″, 24″ or 30″ width
Skirtboard included
Variable speed drive
Used Conveyors for Concrete Batching Plants
FESCO Direct takes used conveyors in trade for new equipment, then offers them for sale via our website. If you're working with a tight budget, check out the used equipment listings in our used concrete equipment marketplace.
Contact FESCO Direct now to request more information on conveyors for your concrete plant.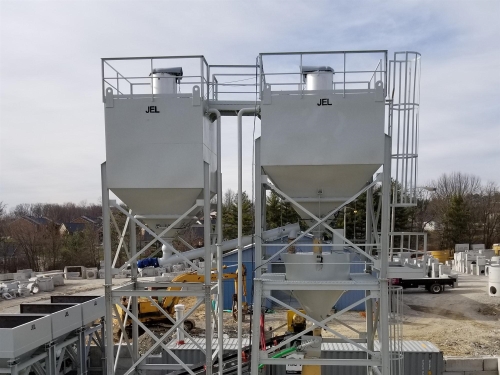 We Source Bulk Material Handling & Storage Equipment from JEL Manufacturing
When we're sourcing material handling & storage solutions for our concrete batch plants, we partner with JEL. Our relationship with JEL allows us to deliver fully customized systems at the lowest price possible. Contact JEL Manufacturing for assistance in designing your concrete plant.