Standard & Custom Cold Feed Systems for Concrete Batching Plants
Sales & Sourcing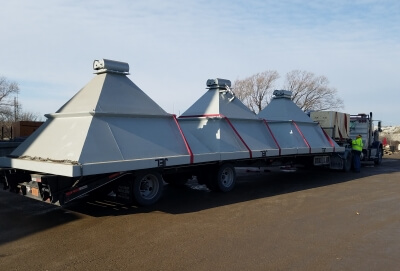 FESCO Direct works with JEL Concrete Plants to design and build concrete plant feed systems for all types and sizes of concrete plants. The 10' x 10' bins are the heart of our standard feed systems but can be expanded with the upgrade to 12' x 12' bins. Our truss framed radial stackers are available in a variety of lengths. We also have turnhead systems, and in-ground systems too!
Whether feeding a turnhead with a series of inline bins or maximizing production by feeding each plant bin with an individual feed bin and conveyor, our affordably priced standard feed systems provide cost-effective solutions for small to large-size concrete producers throughout the US.
We also supply custom concrete feed systems, including drive-over and back-in. For concrete producers based in cold climates, we can incorporate feed systems with ducting for steam or diffusers for forced air inside our hoppers. Let us know what you need and we'll put together a quote.
Contact FESCO Direct for more information on concrete feed systems.