The SmartMix Twin Shaft Concrete Mixer from FESCO Direct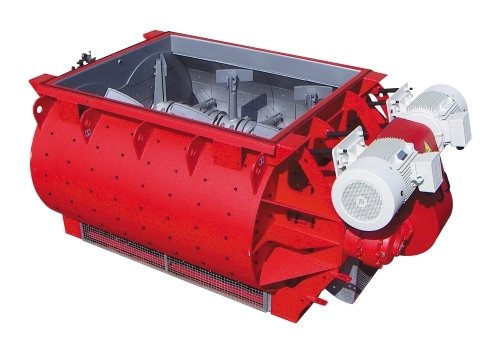 The FESCO SmartMix twin shaft concrete mixer by Ocmer is a leader in heavy-duty twin shaft concrete mixer technology. With an extra-rigid frame, a work-proven power train and innovative shaft seals that can last the life of the concrete mixer, the FESCO SmartMix by Ocmer is ideal for high-speed production in wet precast plants, SCC and ready-mix concrete plants.
The SmartMix Twin-Shaft mixer at a glance:
10 sizes ranging from 2 cu yard to 10.5 cu yd.
Two separate mixing shaft lip seals that form a positive seal against concrete inside the mixer.
Fast 80-second batch cycles for conventional concrete, including batching, charging a mixer, mixing and discharge.
2-stage high-efficiency gearbox.
Eccentrically mounted door and rubber seals ensure a watertight operation and a long, wear-free life.
Paddles and liner plates are ni-hard cast iron with certified minimum HB600 hardness guaranteeing the best strength and longest wear.
Optional Mixer Washout System
All mountings for gearboxes and bearings are machined with the whole mixer on the machining center to ensure true mounting faces and dimensional accuracy.
Because mixing occurs in free space above the concrete mixer floor, wear on the liner plates is very low. Extra hard wearing liner and paddles, high-efficiency gears and reliable shaft seals give the SmartMix the lowest running cost of any twin shaft concrete mixer design on the market.
We are your supplier for new & replacement twin shaft mixers for batching plants
Give us a call and let us know what you need. The standard SmartMix twin shaft mixer may be highly customized to your application based on your need.
Contact FESCO Direct for customization options and ordering information.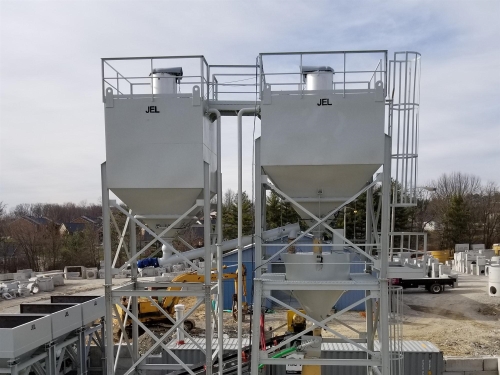 We partner with JEL Concrete Plants in the manufacture of custom concrete plants
JEL Concrete Plants is our partner concrete batching plant manufacturer - from stationary precast plants to fully mobile ready mix batching plants. Contact JEL Manufacturing and we'll help you source the equipment needed to build your plant exactly to your desired specifications.