The SmartMix Twin Shaft Concrete Mixer from FESCO Direct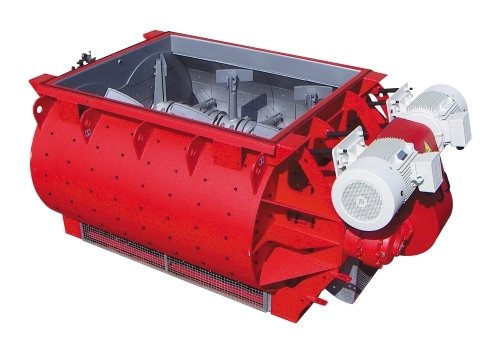 The SmartMix twin shaft concrete mixer is a leader in heavy-duty twin shaft concrete mixer technology. With an extra-rigid frame, a work-proven power train and innovative shaft seals that can last the life of the concrete mixer, the SmartMix is ideal for high-speed production in wet precast plants, SCC and ready-mix concrete plants.
The SmartMix mixer at a glance:
10 sizes ranging from .5 cu yard input to 6 cu yd. input
Wide pan + tall mixer paddles = fast and complete mixing action without dead zones
Fast 80-second batch cycles for conventional concrete, including batching, charging a mixer, mixing and discharge.
comes standard with ACT's Programmable Control System (PCS) factory pre-installed directly into the mixer platform for maximum ease of set-up.
large fully sealing discharge doors
1, 2 or 3 discharge doors
Optional Mixer Washout System
The entire unit can be transported on a single truck bed (not including cement silos).
Because mixing occurs in free space above the concrete mixer floor, wear on the liner plates is very low. Extra hard wearing liner and paddles, high-efficiency gears and reliable shaft seals give the SmartMix the lowest running cost of any twin shaft concrete mixer design on the market.
The SmartMix twin shaft mixer is available in 11 sizes ranging from 3 cu yard input to 16 cu yd. input (2 cu yd. output to 10.5 cu yd. output).
We are your supplier for new & replacement twin shaft mixers for batching plants
Give us a call and let us know what you need. The standard SmartMix twin shaft mixer may be highly customized to your application based on your need.
Contact FESCO Direct for customization options and ordering information.