Manual Control System for Concrete Batching Plants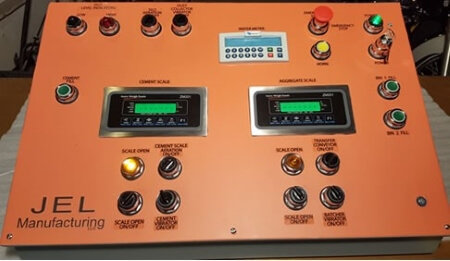 This manual control system from JEL Concrete Plants is ideal for small to mid-sized concrete producers who don't need to print tickets and aren't as concerned with production speed. Each function on your concrete plant can be operated via a switch or button without obstructing the view of the built-in scale indicators. Easily customized to the specific functions of your concrete plant.
Easy Water Control – Just enter how much water you want in your batch and press "Go."
Basic Conveyor Safety – Conveyor belt start is delayed 0-30 seconds while a warning horn lets anyone nearby know the conveyor is about to start. Duration of warning horn can be set to your preference.
Precision Aggregate Batcher Gate Control – Inching gates can be adjusted to control the flow of aggregates from the hopper to the conveyor belt. This helps avoid belt overloading and truck overfilling. To prevent starting the conveyor belt under load, the aggregate batcher gates won't open unless the conveyor belt is operating.
Cement Discharge Control – Bimba valves restrict the exhaust air speed of your cement batcher gates, allowing you to slowly open the gates and quickly close them.
Trade-Up to Batchtron – If you decide to upgrade to a Batchtron automatic control system, we offer a trade-in credit on your manual panel within 2 years of the date of purchase. Trade-in value is based on the condition of your panel at the time of trade.
Contact FESCO Direct to request more information on the JEL Concrete Plants control system.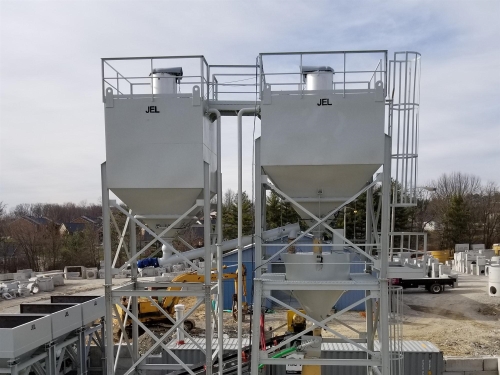 We Partner with JEL Manufacturing to Produce Custom Concrete Batch Plant Solutions
FESCO & JEL partner up to source automatic and manual concrete batch plant control systems. Our relationship with JEL allows us to deliver fully customized systems at the lowest price possible. Contact JEL Manufacturing for assistance in sourcing control systems.