Precast batch plants for sale – new & used batching systems
FESCO Direct partners with JEL Concrete Plants, a Milwaukee-based designer, and manufacturer of highly customizable stationary and mobile precast batching plants. All their plants are built in Wisconsin using high-quality American steel and components. With their lean design and manufacturing process, JEL is able to build 100% US-made plants at prices that beat lesser quality foreign-made plants.
FESCO Direct coordinates equipment manufacturers across the country. We provide perfectly built concrete batching plants for cities including but not limited to Philadelphia, PA, Los Angeles, CA, Seattle, WA, Denver, CO, Chicago, IL, Dallas, TX, Phoenix, AZ, Atlanta, GA, San Antonio, TX, and Houston, TX.
FESCO Direct Sources Custom:
Decumulator® precast concrete plant
The decumulative design of JEL's Decumulator® plant offers a high aggregate storage capacity and faster production rate in a low profile design. JEL's standard Decumulator® model is really just a starting point, though. With deep customization options, including the SmartMix Twin Shaft mixer and Ocmix SF Planetary mixer, you can get a precast plant sized to the production needs of your operation.
Mobile/portable precast concrete plant
The mobile version of JEL Concrete Plants' Decumulator® precast concrete plant gives you the ability to set up on remote job sites, as well as move it around on-site. Like all their plants, the mobile precast plant can be customized to your needs and specifications. Let us know what you're looking for, and the engineering staff at JEL Concrete Plants will recommend the best way to meet your needs.
The FESCO Direct advantage
Why spend your time hassling with the logistics of getting a custom batching plant built. FESCO Direct has an experienced team of engineers on staff to handle all the laborious details involved in getting a plant designed and built.
With FESCO Direct, you can count on getting a plant that's sized right and equipped right for your operation—one that can be easily expanded as your business grows without requiring a major retrofit or a total rebuild. And if you have a proprietary design or technology, you can trust we will not share it with others or build similar equipment without your permission.
Contact FESCO Direct online for more information on custom-built precast batch plants and equipment by JEL Concrete Plants, or call 800-880-7350.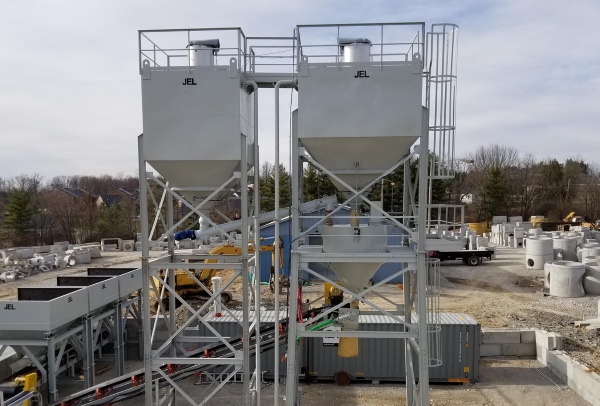 Find out more about our custom precast batching plants.
Contact us to get more details and receive a free pricing estimate. Give us a call or contact us online to get started. If you're looking for more details about our standard models' specs and capabilities, you can get more info from JEL Concrete Plants - they are our partner manufacturer of precast concrete plants.