Silos for Concrete Batching Plants
Sales & Sourcing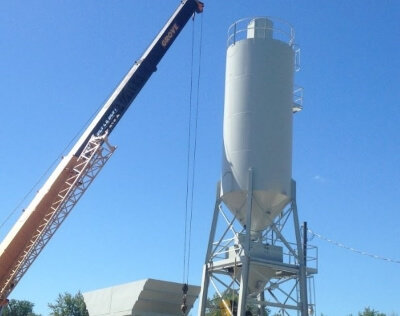 FESCO Direct commissions silos from JEL Concrete Plants, a Milwaukee, Wisconsin-based manufacturer of concrete plants and systems. JEL specializes in high-quality batching plants, silos, and parts built entirely in the US with US-sourced steel and components.
With over 55 years of combined experience in the concrete industry, JEL Concrete Plants has developed a lean design and manufacturing process that streamlines production and enables them to price their products very competitively. The real benefit, though, is that you get a silo built specifically for your needs.
Our engineering team will work with you to identify the features and capabilities you require in a silo, then put together a quote. You'll spare yourself a lot of time and frustration researching silos from multiple manufacturers, and you'll get the right silo for your operation—at an unbeatable price.
Sample silo build by JEL Concrete Plants
Ladder with fall-arrest system
Work platform
Full Railing with toe board
Manhole, and pop-up valve
Hi / Lo level indicators
8-12 Aeration Pads with manifold
Jam Gate and butterfly
14' clearance under discharge
Jet Pulse Silotop Dust Collector
10 sizes (185 bbl, 200 bbl, 270 bbl, 350 bbl, 450 bbl, 550 bbl, 700 bbl, 900 bbl, 1050 bbl, 1200 bbl)
Silo Options
Double wall split silos available in 70/30, 60/40, and 50/50 splits
Structural drive-thru stands
Non-drive-thru stands
Cement Batchers
Screw conveyor
SiloWeigh System
Additional 4" fill pipes
5" fill pipes
High-Volume, Low-Pressure ring blower
Used Silos for Concrete Batching Plants
FESCO Direct will occasionally take used silos in trade for new equipment. If you're looking for a good deal on a used silo, check out our used equipment listings.


Contact FESCO Direct now to request more information on stationary silos.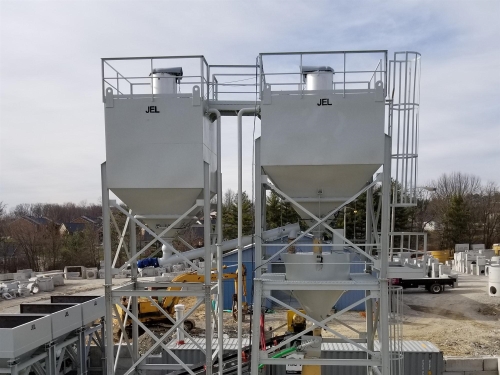 We Source Bulk Material Handling & Storage Equipment from JEL Manufacturing
When we're sourcing material handling & storage solutions for our concrete batch plants, we partner with JEL. Our relationship with JEL allows us to deliver fully customized systems at the lowest price possible. Contact JEL Manufacturing for assistance in designing your concrete plant.