Aggregate Heating Equipment for Concrete Batching
Sales, Sourcing & Distribution
FESCO Direct offers forced air aggregate heating systems and steam generators.
Steam is commonly used to accelerate the curing of concrete products at precast plants and for heating aggregates and limited amounts of water at both ready mix and precast concrete plants. FESCO Direct offers cost-effective, high-performance steam generators from Sioux® that outperform conventional boilers and are ideally suited for small to mid-sized concrete producers, as well as larger operations.
Steam-Flo® Steam Generators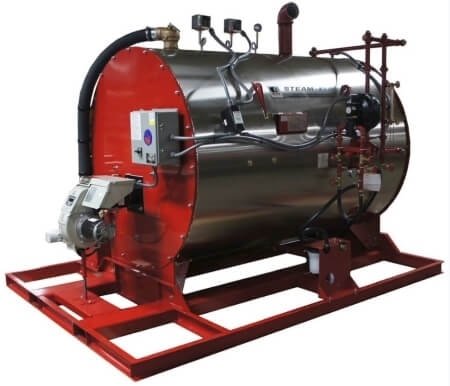 Steam-Flo® steam generators are a great alternative to conventional boilers. These units provide a continuous flow of unlimited low-pressure steam, are easy to operate and require only minimal maintenance. What's more, they're backed by the only 20-year guarantee in the industry.
If you are looking for a low cost, proven system for aggregate heating, you can't do better than Steam-Flo. These generators have been manufactured since 1939 and have proven themselves in thousands of concrete operations worldwide.
Applications
Heating aggregates
Material bunkers
Overhead material storage bins
Thawing clamshell gates on aggregate bins
Speeding up curing in precast, pipe, vault, pre-stress and block operations
Certifications
Meets requirements of CSD-1 of the ASME Code and is built to Section IV of the ASME code.
Meets UL and CSA standards
Low Nox Steam-Flo® meets California's South Coast Air Quality Standards.
Steam-Flow® Models
SF-25 – 1,010,000 BTU/Hr. (Net Heat Input)

LP or Natural Gas Fuel
4 operating amps
24.5 HP, 19kW Boiler
845 lb. / hr. steam output

SF-50 – 2,000,000 BTU/Hr. (Net Heat Input)

LP, Natural Gas, or #2 Diesel Fuel
10 operating Amps
50 HP boiler
1725 lb. / hr. steam output
Benefits of Heating Aggregate with Steam
Smaller. lighter and much more efficient than single pass designs, saves space and reduces operating costs.
Power gas burners provide a consistent burn, will save fuel and have lower emissions.
Water is flash heated to steam and forced through the distribution pipes using the naturally occurring pressure of steam.
Steam heating systems are a fraction of the upfront cost of other over-engineered heating systems.
Sioux Aggre-Flo Aggregate Bin Heater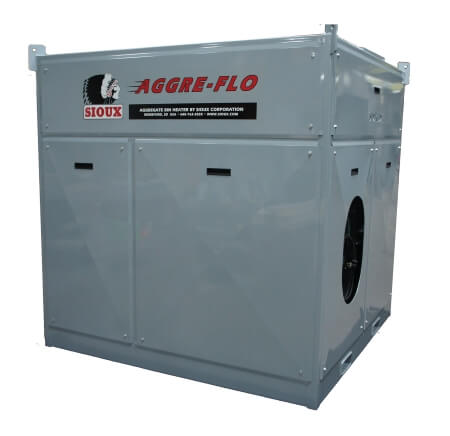 The Aggre-Flo forced air aggregate heating system is designed to heat fine and coarse aggregates to mitigate ice and frozen chunks over winter months. The whole bin is heated to a constant temperature with dry heat that brings no extra moisture into the aggregate. Concrete producers can keep aggregates flowing from bins and get 100% consistent batch quality even through the coldest months.
This forced air aggregate heater lives up to the Sioux reputation and delivers on its promise to keep aggregates flowing through the winter.
Features
500,000 to 2,000,000 BTU/hr net heat output
2,000 to 8,000 cfm max air flow
Burner & blower controls
Can be matched with customers' existing bin diffusers
Design provides easy access to the burner
Central controller can be mounted with customers' batch control panels (up to 330ft away)
Meets UL-508a and NFPA 86
Aggre-Flo Models
AF.5 - 500,000 BTU/hr input/output, 13 amps operating current, 2,000 cfm air flow, 1,600lbs
AF1 - 1,000,000 BTU/hr input/output, 30 amps operating current, 4,000 cfm air flow, 2,200lbs
AF2 - 2,000,000 BTU/hr input/output, 58 amps operating current, 8,000 cfm air flow, 3,100lbs
Benefits of Heating Aggregates with Forced Air
Keep aggregate flowing out of your bins in the winter
Reduce total cost of operation by being more efficient
Keep your concrete in spec with correct aggregate temperatures
Control heat for up to 6 aggregate bins form a central controller - can be expanded for additional capacity, up to 4 additional bins per expansion pack
Keeps your employees safe - no more climbing to beat on bins
Contact FESCO Direct for the concrete aggregate heating system perfect for your custom built batching plant.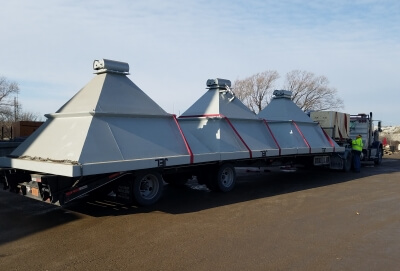 We partner with JEL Concrete Plants in the manufacture of custom concrete plants
JEL Concrete Plants is our partner concrete batching plant manufacturer - from stationary precast plants to fully mobile ready mix batching plants. Contact JEL Manufacturing and we'll help you source the equipment needed to build your plant exactly to your desired specifications.