Sioux Corporation – Water Heating & Cooling Equipment For Sale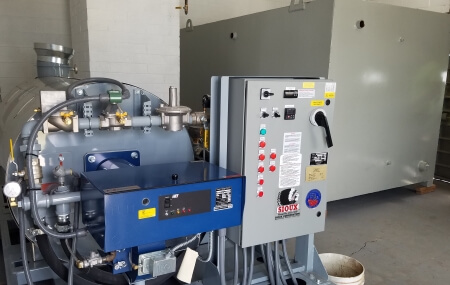 Sioux Corporation has been the concrete industry's #1 provider of water heating & cooling equipment for batching systems for decades. We are proud to partner with Sioux as a distributor of all concrete batching water heating & cooling parts & equipment. For water heating equipment for precast plants and water heaters for ready-mix operations, Sioux Corporation is our go-to preferred manufacturer. All equipment is custom manufactured 100% to your specs with the capability of accommodating low or high production capabilities.
Industrial Water Heaters for Sale
Sioux manufactures high-efficiency water heaters for heavy-duty industrial applications including ready-mix concrete manufacturing. Each water heater is capable of bringing the batch water up to 100 degrees Fahrenheit in 3-5 minutes and controlling the flow rate to meet the production speed. Water heaters can operate on Diesel, propane or natural gas. Each water heater produced by Sioux is registered with the National Board of Boiler and Pressure Vessel Inspectors and built to Section IV of ASME Code.
Sioux Water Chillers for Concrete Production
Using ice or nitrogen to cool batch water in the summer months is costly, inefficient and imprecise. Industrial water chillers from Sioux use condensers and fans to remove heat from the batch water and return the cooled water back to the manufacturing process. Commercial chillers allow for precise temperature control which leads to more consistency between batches. Using a dedicated water chiller is a more cost-effective solution in the long term.
Contact FESCO Direct for custom manufactured concrete batch plant water heating & cooling equipment from Sioux.