Ready Mix/Dry Batch Concrete Plants for Sale
Affordable New & Used Equipment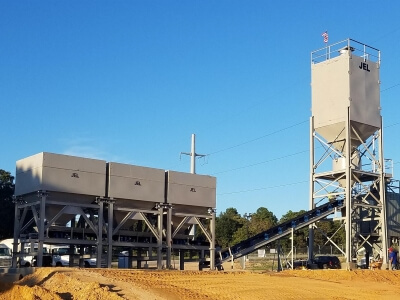 FESCO Direct partners with Milwaukee-based JEL Concrete Plants for the design and construction of stationary and mobile ready mix concrete plants, as well as plant equipment. With their lean design and manufacturing approach, JEL Concrete Plants is able to build plants in the USA with all American-made components and offer them at extremely competitive prices.
JEL Concrete Plants offers three standard configurations, each of which can be easily customized to your needs or scaled to your operation. By offering a few standard configurations that can be readily customized, you can get the plant you need at a price you can afford—with the option to upgrade/expand it as the need arises.
Standard ready mix dry batch plants manufactured by JEL Concrete Plants
The Decumulator™
Decumulator plants are known for their versatility and the way they shorten the production process. Their decumulative (reverse weighing) aggregate bins are true workhorses. The modular design allows for multiple configurations of stationary or mobile and ready or central mix. JEL Concrete Plants offers customizable options such as dust collection systems, a larger silo, larger bins, and a larger transfer conveyor.
High production™ plant
While accumulative weighing concrete plants discharge aggregate into a scale one material at a time, plants put each aggregate on its own scale so it can all be discharged at the same time. With JEL's high production , a batch using 2 or more aggregates can be produced in half the time it takes for an accumulative plant.
Low Production™ plant
This is a smaller version of JEL's , designed for smaller and more budget-conscious operations. The aggregate bins, while smaller, still can hold and weigh as much as 20 tons of aggregate in each hopper. Like the high production model, it can be configured to discharge directly into a front or rear discharge mixer truck.
The Acumulator™
JEL's Acumulator™ is an accumulative weighing system plant that uses a traditional multi-compartment overhead aggregate storage bin. It's a very versatile system, allowing you to start small with a basic plant and add upgrades later as your production requirements increase. You can choose the silo size and bin size that works best for you, as well as options like a load point dust collection system or weighed water system.
BudgetBatch™
As the name suggests, JEL's BudgetBatch™ is their most affordably priced plant—ideal for start-ups on a tight budget or as a satellite plant. Designed to grow as your business grows, the BudgetBatch can be upgraded with overhead aggregate storage for conversion to an accumulative plant—enabling you to load the batcher with a front end loader without the need for expensive feed equipment—or with a load point dust collection system, weight water, larger silo, or other custom options.
Mobile ready mix plants
JEL Concrete Plants designs and builds cost-effective mobile ready mix batching plants that set up quickly and easily. Electrical wiring and plumbing is pre-installed, so they're ready to go on delivery. With deep customization options, it's easy to get a plant dialed into the needs of your operation—and easy to upgrade later on as your business grows.
Nationwide Concrete Solutions
Looking for top-quality ready mix and dry batch concrete plants in Philadelphia, PA, Los Angeles, CA, Seattle, WA, Denver, CO, Chicago, IL, Dallas, TX, Phoenix, AZ, Atlanta, GA, San Antonio, TX, or Houston, TX? Contact FESCO Direct today for custom-built solutions from JEL Concrete Plants! We've got your concrete needs covered.
The FESCO Direct advantage
Spending your time dealing with the logistics of getting a custom batching plant for your operation is a sure way to drive yourself crazy. FESCO Direct has an experienced team of engineers on staff to handle all the details involved in getting a plant designed and built. We work closely with the industry's premier equipment manufacturers:
We specialize in sourcing the right plant and equipment, so you get a plant that's sized right and equipped right for your operation. Additionally, if you have a proprietary design or technology, you can trust we will not share it with others or manufacture similar equipment without your express consent.
Contact FESCO Direct online for more information on custom-built ready mix batch plants and equipment by JEL Concrete Plants, or call 800-880-7350.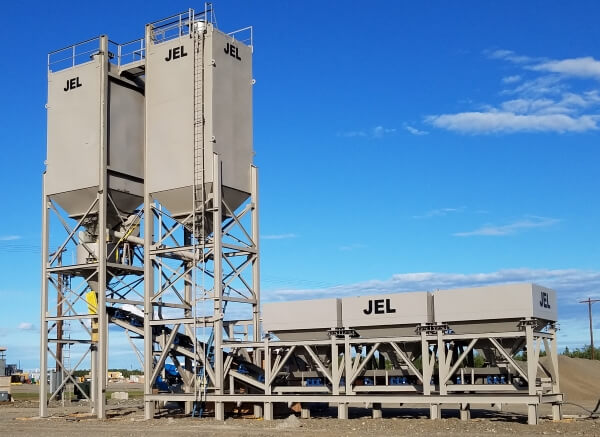 Find out more about our custom dry batching plants.
Contact us today for a free quote by giving us a call or contact us online to get started. If you're looking for more details about our standard model's specs and capabilities, you can get more info from JEL Concrete Plants - they are our partner manufacturer of ready-mix dry batch concrete plants.