Washout Systems for Concrete Batching Mixers & Plants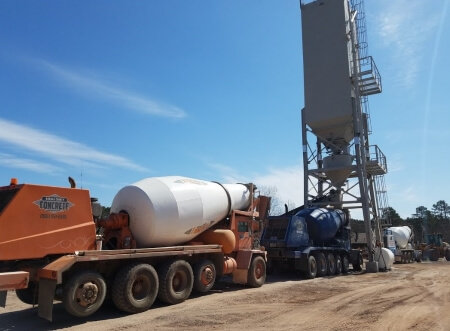 Adding a high-pressure washout system to your mixer can give you an extra 15 to 30 minutes of production time every day. This washout system works with all types of concrete mixers, and is easily installed. The rotating jets, high pressure pump and water reservoir are all built with quality materials and extremely reliable.
Sioux Ready-Mix Truck Wash System
Ready-mix truck wash systems from Sioux are used to quickly and safely clean the concrete truck, including the hopper, of both front and rear discharge trucks. The concrete truck wash systems from Sioux are incredibly versatile and easy to use. The truck wash system can be changed to accommodate front or rear-discharging concrete trucks with the push of a button.
How the Sioux Truck Wash System Works
The truck wash system consists of two main parts, the TWR40 stainless steel wash tower and the TW40 power unit. The power unit supplies the water and power needed for the wash tower to effectively clean the concrete truck. The power unit features a large industrial pump that is capable of supplying 40 gallons per minute at 1200 PSI. When the truck approaches the wash tower a spray bar applies a detergent or cleaning chemical to the truck's sides. Then a series of rotary high-pressure spray nozzles clean the hopper to remove loose materials. When this process is complete, the truck will slowly proceed through the final set of spray bars that have high-pressure nozzles to clean and rinse the top and sides of the truck. A light bar assists the driver to determine proper positioning for each stage and counts down the time remaining in each cycle. Each truck is able to be cleaned in one minute.
TWR40 Wash Tower Features
Stainless steel wash tower construction including the detergent and high-pressure spray bars

Approximately 183" wide x 189" tall x 90" Lengt

Engineered to withstand high wind load

The Sioux proprietary truck sensors are built for severe environments and automatically start the system

Adjustable sensors for precise operation of each producer's trucks

LED light bar advises the driver of proper positioning as well as the duration remaining of each cycle

Hopper wash system with rotary spray nozzles
TW40 Power Unit Features
Touchscreen control on the power unit to easily program the unit for each producer's wash cycle needs

Adjustable cycle duration

A generic cycle can be programmed if desired for special applications

Automatic winterization/blowdown of the wash tower after an adjustable idle time, when activated

40HP TEFC premium efficiency motor with soft starter

Belt-driven industrial triplex plunger pump operating at 1200 PSI for wash cycle

1 HP TEFC premium efficiency motor and triplex pump and detergent injector for the detergent cycle

NEMA 4 watertight electrical enclosure

Flow control valves at ground level for quick and easy access

Emergency stop switch

High-pressure relief valve

125-gallon stainless steel float tank with a low water level safety switch to protect the high-pressure pump

Includes a wash gun and high-pressure hose for manual cleaning of equipment

Backed by Sioux's industry-leading warranty
Benefits of the Sioux Truck Wash System
Reduce the risk of injury: drivers do not have to get out of the truck and climb up to wash the hopper manually
Consistent loads: the same amount of water is added to each load (not dependent on the driver)
Fast and efficient: Trucks are cleaned and ready to go in 60 seconds
Professional company image: improve the look of the trucks and appearance to customers
Uses less water
Optional Cold Weather Package
The Cold Weather Package includes a temperature sensor to automatically activate winterization mode if the ambient temperature is near freezing. When enabled, only the hopper wash mode is activated to minimize ice build-up on the exterior of the truck and the wash pad area. An extended air blow down between cycles and hose insulation with heat tracing prevents water from freezing in the lines. This will help extend the length of time drivers are able to use the truck wash system in colder climates.
Choose a washout system as an optional add-on with:
Concrete mixer washout systems save you money.
Less man hours spent cleaning means more production time
Reduces maintenance costs
Extends service life of mixer
Contact FESCO Direct for a quote on a custom concrete batching system.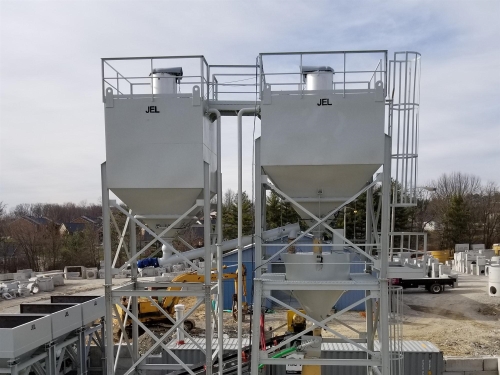 We partner with JEL Concrete Plants in the manufacture of custom concrete plants
JEL Concrete Plants is our partner concrete batching plant manufacturer - from stationary precast plants to fully mobile ready mix batching plants. Contact JEL Manufacturing and we'll help you source the equipment needed to build your plant exactly to your desired specifications.